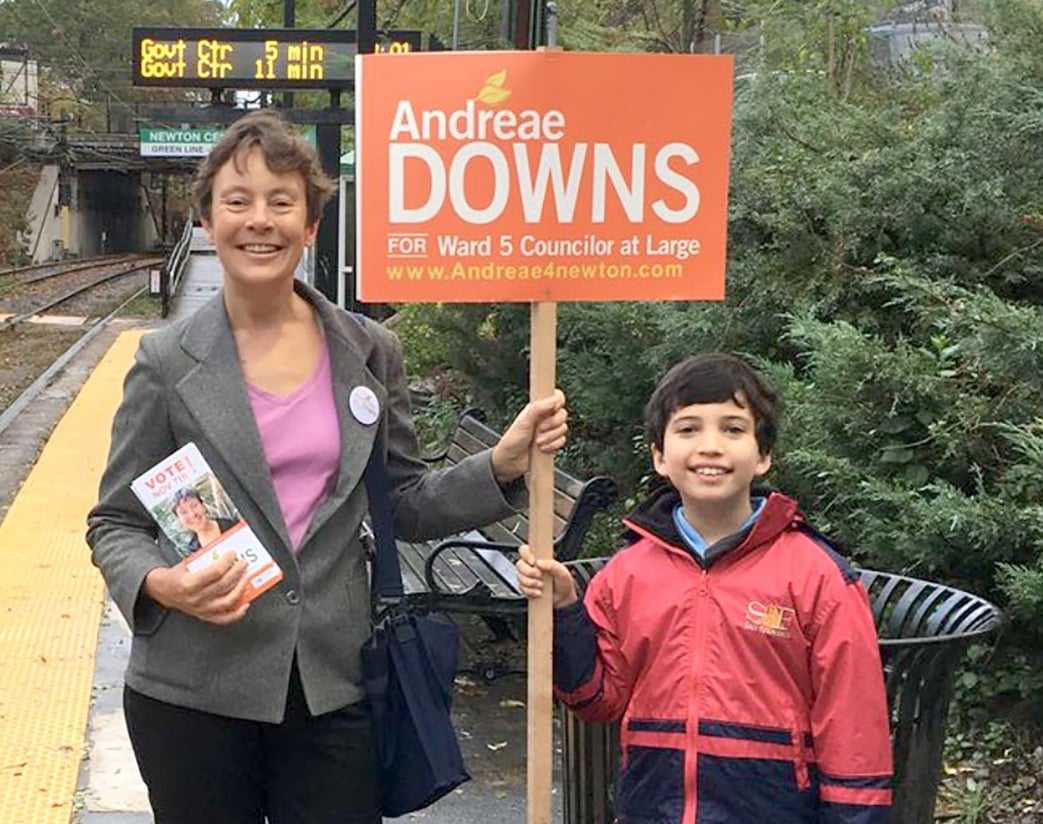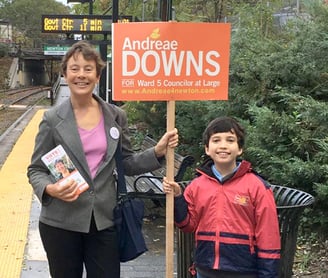 ABOUT ME
In the 30 years we have lived here, Newton has given us much: a wonderful community of friends and neighbors, excellent schooling for our two daughters, a library that continues to inspire curiosity, great parks and open spaces, and easy access by foot, bike, transit and car.

I wish to continue to give back to Newton and improve life here for you and your family.

My professional background is as a community journalist and since 2012, I serve as director of the Wastewater Advisory Committee to the MWRA.
As chair of the council's Public Safety and Transportation committee, I have advanced safer streets and encouraged the efforts of our police and fire chiefs to build positive connections and create better outcomes for our residents.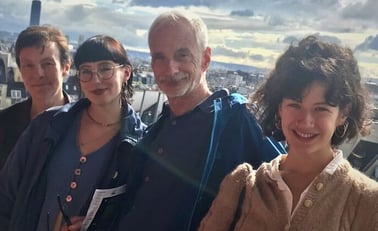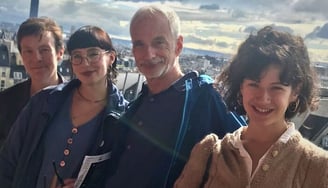 Andreae, Paul and daughters Susannah and Juliette
ACCOMPLISHMENTS
Voting for needed, high-performance housing near transit and services;

Reclaiming the Commonwealth Avenue Carriageway as a linear park;

Making special permit projects better with energy efficiency and improved pedestrian facilities;

Creating safer school routes for students on foot, bike and buses-including over 20 slow zones;

Supporting park investments;

Helping our village centers thrive-including making the parking spot dining pilot permanent;

Adding native biodiversity as a goal for parks and new landscaping.
MEMBER OF:
Newton Conservators
Green Newton
Newton Tree Conservancy
League of Women Voters, Newton
Newton Pollinator Project
Friends of Cold Spring Park, Hemlock Gorge & Quinobequin
SUPPORTERS
Current & Former Newton Elected Officials:
Congressman Jake Auchincloss
Cynthia Stone Creem, State Senator
Ruth Balser, State Representative
Kay Khan, State Representative
Mayor Ruthanne Fuller
Susan Albright, City Council President
Rick Lipof, City Council Vice President
City Councilors:
Alison Leary
Maria Greenberg
Andrea Kelley
Deb Crossley
Bill Humphrey
Alicia Bowman
Vicki Danberg
Brenda Noel
Becky Walker Grossman
David Kalis
Holly Ryan
Former Alder/Councilors:
Mitch Fischman
Ted Hess-Mahan
Brooke Lipsitt
John Rice
Cheryl Lappin
Current & Former Area Councilors
Marie Jackson
Maureen Reilly Meagher
Srdjan Nedeljkovic
Community leaders:
Jenn Abbott
AnnaMaria Abernathy
Rachel Adler-Golden
Ruby Ajanee
Cori Alperstein
Nathan Aronow
David Backer
Diane Becket
Tamara Bliss
Judy Boroschek
Karen Bray
Dan Brody
Halina Brown & Philip Vergragt
Nanci Ginty Butler
Sandra Butzel
Dr. Harvey Cohen, DDS
Marcia Cooper
Kyle & Lindsay Crossley
Amy Dain
Ruth & Bill Dain
Sheila Decter
Lucia Dolan
Jonathan Downs & Andree Saulnier
Bev Droz
Christine Dutt
John Ficarelli
Lee Fisher
Shawn Fitzgibbons
Henry Finch
Russ Feldman
George Foord
Susan & Lachlan Forrow
Jane Frantz
Nanette Fridman
Rob Gifford
Marian & Arthur Glasgow
Fran Godine
Janet Goldenberg
Ellie Goldberg
Linda Green
David Guberman
Holly Gunner & Anne Chalmers
Mike Halle
Jane & Phil Hanser
Brice Hobbs
Larissa Hordynsky
Alice Ingerson
Judy Jacobson & Dan Weiner
Bob Jampol
Barbara John
Laura McCarthy Johnson
Helen Jordan
School Committee Members
Tamika Olszewski
Rajeev Parlikar
Anping Shen
Emily Prenner
Kathy Shields
Former members:
Ruth Goldman
Steve Siegel
Matthew Miller
Claire Sokoloff
Anne Borg
Margie Ross-Decter
Susan Rosenbaum
Susie Heyman
Community leaders:
Kathy Kagan Laufer
Connie & Bill Kantar
Jonathan Kantar
David Kenney
Marian Knapp
Ken & Carol Krems
Curt Lamb
Jack Leader
Barbara Lietzke
Lois Levin & Helen Rittenberg
Arlene Lowney
Jenn Martin
Judi MacKenzie
Robin Maltz
Honor McClellan
Kevin McCormick
Mark McElroy
Charlie McMillan
Lisa Monahan
Rosemarie Mullin
Jennifer Nash & Don Bronstein
Susan Nesson
Alan Nogee
Ed Olhava
John Pelletier
Nathan Philips
Kathy Pillsbury
Marion Pollack
Dan Powdermaker
Kerry Prasad
Cedar Pruitt
Jim & Sheila Purdy
Liz Richardson
Sean Roche
Don Ross
Dan Ruben
Scott Sanders
Lynn Scheller
Rev. Devlin Scott
Mary Seidel-Sharp
Allison Sharma
Carol Ann Shea
Mindy Sieber
Ken Sinclair
Wendy Smith
Marvin & Faye Snider
Chris Steele
Doris Ann Sweet
Marcia Tabenken
Betty & Steve Tolkin
Laura & Adam Towvim
Jean Tullius
Jay Walter
Jean Weinberg
Lynn Weissberg
Beth Wilkinson
Dan Violi
Dede Vittori
Nancy Zollers